Richie's Classic Italian Ice
Richie's Super Premium Italian Ice 2.5 Gal. Bulk
Richie's offers several 'By the Scoop' options for serving our delicious Super Premium Italian Ice.
First of all, every one of our 24 thirst-quenching Super Premium are offered for 'By the Scoop' serving.
Secondly, Richie's Italian Ice is available in three different-sized cup servings, including the small 7 ounce cup, the medium 12 ounce cup and the large 16 ounce cup for those seeking the ultimate Italian Ice experience.
Serving Size: 281g (10 fl. Oz.)
Servings per container: 1
Calories: 250
Fat Cal.: 0
Amount/Serving
Total Fat 0g
Sat. Fat 0g
Trans. Fat 0g
Cholest. 0mg
Sodium 0mg
Total Carb. 53g
Dietary Fiber 0g
Sugars 53g
Protein 0g

Vitamin A
Vitamin C
Calcium
Iron
Percent Daily Values (DV) are based on a 2,000 calorie diet.
List of Flavors:
Premium Lemon

Premium Blue Vanilla

Premium Blue Raspberry

Premium Mango

Premium Lemon-Lime

Premium Root Beer

Premium Pina Colada

Premium Banana

Premium Almond

Premium Ice Coffee

Premium Double Fudge

Premium Watermelon

Premium Pineapple

Premium Black Cherry

Cake Batter

Candy Cane

Egg Nog

Richie's Fire
Premium Cherry

Premium Orange Cream

Premium Sour Apple

Sour Rainbow

Premium Cotton Candy

Premium Grape

Rainbow USA

Premium Strawberry

Premium Raspberry

Premium Coconut Cream

Premium Bubble Gum

Premium Peach

Premium Tangerine

Premium Key Lime

Premium Strawberry Lemonade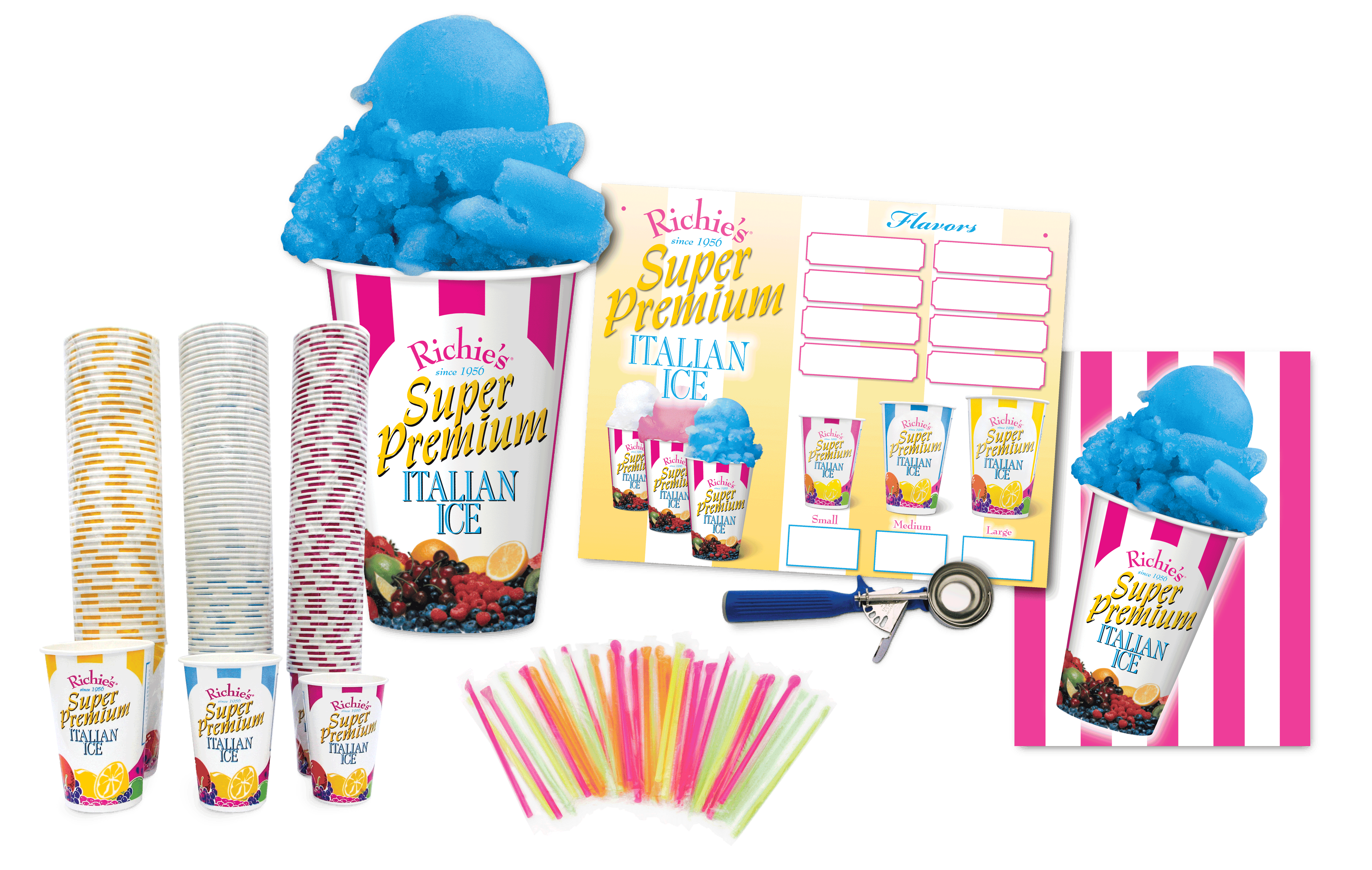 Richie's Supplies
additional cost